ATV KOH SAMUI ADVENTURE TOURS
THE BEST JUNGLE ADVENTURE TRIPS
ATV QUAD BIKING KOH SAMUI, ENDURO & BUGGIES
AN EXCITING WAY TO MEET THE RAINFOREST
One of the great advantages of Koh Samui as a holiday destination is the variety of activities and attractions on offer. Koh Samui has both beautiful beaches and jungle hills in the center of the island with natural lakes, waterfalls and trekking paths. If you are into adventure, speed and fun, keep reading because our selection of ATV Koh Samui adrenaline experiences are a must try for you!
ATV stands for All Terrain Vehicles. We work only with local companies we trust on the island, specialised in 3 categories:
QUAD BIKING KOH SAMUI

BUGGIES
ENDURO DIRT BIKES
No matter if you are a beginner of an experienced driver, you will have enough challenge and fun with most of our tours in Koh Samui. You have the option to be part of a general group or to reserve a private ATV tour for a little extra, to go at your on pace with your own people.
With some of our partners you can even rent on board GoPro cameras to film your day trips!
Put your helmet on and prepare for a unique tropical adrenaline rush in Thailand!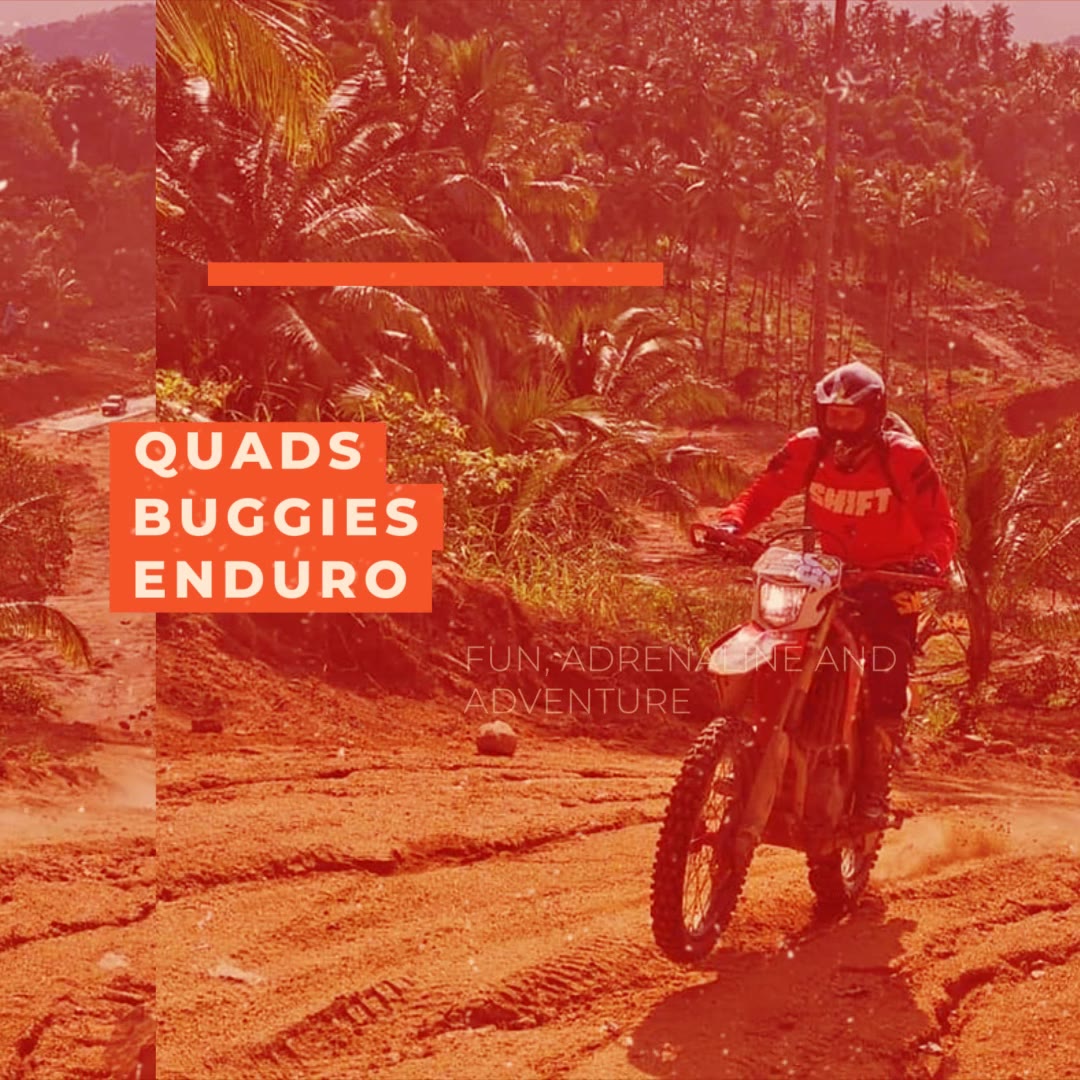 BOOK YOUR KOH SAMUI ADVENTURE TOUR
ADRENALINE & FUN IN KOH SAMUI
Book online instantly with confidence, the best ATV Koh Samui Adventure Tours.
We only work with local activities and attractions on the island we trust. We already did the testing and vetting for you! Book through KohPlanner knowing you are getting the best available activities at the best price!
Resort & hotel transfers available!
Our ATV Samui island partners will coordinate pick ups at your location in the morning and will drop you back at your resort after the experience. Some of the adventure tours already include the transfer service.
The perfect QUAD for your ATV Koh Samui trip if you are a beginner. Great for kids from 10 years old too!
This ATV QUAD Bike is really confortable with extra large seat. If you chose to share the QUAD this is a great fit for 2 adults.
WHAT TO EXPECT FOR THE DAY
ADVENTURE EXPERIENCE DAY PLAN
SCHEDULES & ITINERARIES FOR THE ADVENTURE DAY
GETTING THERE
If you book pick up and drop off service, or book a tour with pick up included: A shuttle service will pick you up from your resort on the day, to take you to the meeting where your ATV adventure starts in Maenam, Northern Koh Samui.

If you decide to arrive to the meeting point on your own, we will email you the location once you reserved your experience.

Make sure you arrive on time!
4HRS QUAD BIKES & BUGGIES TOUR ITINERARY
TOURS EVERYDAY!

9:30/10:30. PICK UP:

Free pick up from your resort.

10:45. ADVENTURE STARTS:

ATV ride starts from basecamp. Dirt track riding through the rainforest along hillside tracks, reaching the highest viewpoint in Koh Samui to enjoy breathtaking views!

12:45. LUNCH:

Thai lunch break surrounded with amazing views

13:15. 2ND LEG:

The ATV tour continues through some of the best off-road track on the island, riding through the jungle, hills and stunning waterfalls where you can have a swim or relax with the scenery.

15:30 BACK TO BASECAMP:

DROP OFF:

Back to your resort
ENDURO DIRT BIKES TOURS ITINERARIES
2HRS ENDURO ADRENALINE RELEASE
TOURS EVERYDAY MORNINGS AND AFTERNOONS!

8:30/9:30. MORNING TOUR PICK UP:

10:00. ENDURO TOUR START

12:00. RETURN TO BASECAMP
--------------------------
12:30/13:30. AFTERNOON TOUR PICK UP

14:00. ENDURO TOUR START

16:00. RETURN TO BASECAMP
2HRS DIRT BIKE BEGINNER ADVENTURE
TOURS EVERYDAY MORNINGS AND AFTERNOONS!

8:30/9:30. MORNING TOUR PICK UP:

10:00. ENDURO TOUR START

12:00. RETURN TO BASECAMP
--------------------------
12:30/13:30. AFTERNOON TOUR PICK UP

14:00. ENDURO TOUR START

16:00. RETURN TO BASECAMP
3HRS ENDURO SCRAMBLE
TOURS EVERYDAY MORNINGS AND AFTERNOONS!

8:30/9:30. MORNING TOUR PICK UP:

10:00. ENDURO TOUR START

13:00. RETURN TO BASECAMP
--------------------------
13:30/14:30. AFTERNOON TOUR PICK UP

15:00. ENDURO TOUR START

17:00. RETURN TO BASECAMP
5HRS MOUNTAIN LOOP ENDURO ADVENTURE
TOURS EVERYDAY!

INCLUDES THAI LUNCH:

Lunch from an amazing view point

INCLUDES 2 WATERFALL STOPS:

Great for swim opportunity!

8:30/9:30. MORNING TOUR PICK UP:

10:00. ENDURO TOUR START

15:00. RETURN TO BASECAMP
***8HRS KOH SAMUI ENDURO SAFARI***
TOURS EVERYDAY!

CUSTOMISED TO FIT BEGINNERS AND EXPERT RIDERS LEVELS!

INCLUDES THAI LUNCH:

Lunch from an amazing view point

INCLUDES A WATERFALL STOP:

Plunge in for a swim!

INCLUDES ATTRACTIONS:

Temples, attractions and visits such as: Monkey Farm, Dusit Dhewa Cultural Centre, Paradise Park, Magic Garden and Hin Ta Hin Yai (Grandmother & Grandfather rocks). All entry fees included!
8:30/9:30. MORNING TOUR PICK UP:

10:00. ENDURO TOUR START

18:00. RETURN TO BASECAMP