Phuket to Koh Samui
Best ways to get from Phuket to Koh Samui
On a tight budget
If cost is an important factor planning your trip, the cost taking a flight from Phuket to Koh Samui is going to sting. Flight to Samui can be expensive… Take a bus and a ferry and you will pay a fraction of the price. Think where you stay in Koh Samui. A taxi from Nathon Pier to Chaweng can cost 800 Baht. From Bangrak Pier just 300 Baht
Tired of island hopping
If you are on the last leg of your trip and tired of ferries, buses and minivans, consider a comfortable itinerary. Many visitors, let the islands in the Gulf of Thailand for the end of their holiday to recover from the extensive travelling. A longer itinaryr from Phuket to Koh Samui may be a hustle of are tired of island hopping.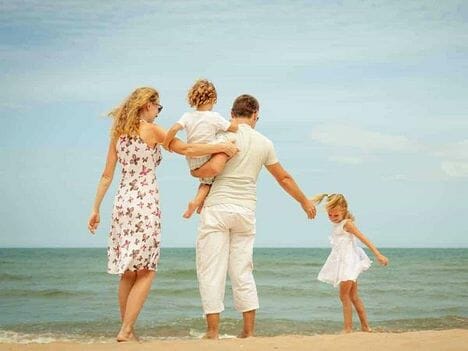 Travelling with kids
If you travel with babies the flying to Koh Samui should be your prefer option. The only Phuket to Koh Samui flights to consider are direct unless your any member of your traveling party has mobility challenges. Bus and ferry is available and suitable with small children
Travelling from Phuket to Koh Samui, two of Thailand's most popular tourist destinations, can be an experience in itself, offering picturesque landscapes and a taste of Thai culture. Here is detailed guide on the various travel options available, their pros and cons, expected travel times, and tips to ensure a smooth journey.
Travel Options
1. Flight
The quickest and most convenient way to travel from Phuket to Koh Samui is by air. Bangkok Airways operates daily direct flights from Phuket to Koh Samui. Direct flights from Phuket to Koh Samui usually depart in the morning and afternoon. It's recommended to book in advance, especially during peak tourist season, to secure the best prices and availability.
To recap, a direct flight from Phuket to Koh Samui takes approximately 55 minutes, not including check-in and waiting times at the airport. While this is the quickest and most convenient option, it is also the most expensive and misses out on the beautiful overland and seascapes.
Pros:
Time-saving, with the flight typically lasting around 55 minutes.
Convenient, as it avoids the hassle of multiple transfers.
Cons:
Often the most expensive option.
Environmental impact is higher compared to other travel options.
You might miss out on the scenic beauty of overland and sea routes.
Ideal for: Travellers who prioritize time and convenience over cost, such as businesstravellerss or those on a short holiday.
2. Bus and Ferry
A more budget-friendly and scenic option is to take a combined bus and ferry journey. Several companies operate this route, with tickets often including both bus and ferry fares. Companies like Lomprayah and Seatran offer combined bus and ferry tickets. The journey starts with a bus ride from Phuket to Surat Thani or Donsak Pier, followed by a ferry to Koh Samui. These companies typically have morning and afternoon departures.
The combined bus and ferry journey typically takes between 6 and 8 hours. This includes a 4-5 hour bus ride from Phuket to Surat Thani or Donsak Pier, and a 1.5-2 hour ferry ride to Koh Samui. The schedules are usually well-coordinated, minimizing wait times. This option gives you a chance to enjoy the scenic beauty of Thailand's landscapes and seascapes, making the journey as enjoyable as the destination. However, the long travel duration and the need for multiple transfers might not suit everyone.
Pros:
Economical and eco-friendlier than flying.
You get to enjoy the beautiful Thai landscapes and seascapes.
Cons:
It's a long journey, typically taking around 6-8 hours.
Multiple transfers can be tiring and confusing for some.
Ideal for: Budget travellers, backpackers, and those who enjoy overland and sea travel.
3. Taxi or Private Transfer and Ferry
For those who value comfort and a personalized experience, private taxi transfers from Phuket to the ferry port, followed by a ferry to Koh Samui, could be the best choice. Private transfers can be scheduled at any time of the day. After the road journey to Donsak Pier, there's a ferry ride to Koh Samui.
Private transfers and ferry can take around 5 to 7 hours, depending on traffic conditions and the time you spend waiting for the ferry. This includes a 4-5 hour taxi ride from Phuket to Donsak Pier, and a 1.5-2 hour ferry ride to Koh Samui. While this option is more expensive than the bus and ferry route, it offers a more comfortable and personalized travel experience. The flexible schedule is a major advantage, especially for those traveling in groups or with family.
Pros:
Offers privacy and comfort.
The schedule can be flexible based on your preferences.
Cons:
More expensive than the bus option.
Still requires a ferry transfer.
Ideal for: Travelers who value comfort and flexibility, such as families with children or older travelers.
Tips and Aspects to Consider
Booking in Advance: For all options, booking in advance is highly recommended, especially during peak season (December – March and July – August).
Travel Insurance: Ensure that your travel insurance covers all modes of transport you'll be using.
Luggage: For the bus and ferry option, consider packing light as you'll need to handle your luggage during transfers.
Weather: The weather can impact ferry services. During the monsoon season (October – November), sea travel can be rough, and services may be cancelled.
In terms of travel times, it's worth noting that delays can happen due to traffic, weather conditions, or unexpected situations. Therefore, it's always wise to allow some extra time in your schedule.
Regardless of your chosen mode of transport, remember to stay hydrated, carry some snacks, and enjoy the journey. For some itineraries stops can happen less frequently. Be aware of that, especially if you are stomach sensitive. Each travel option offers a unique experience and a different perspective of Thailand's rich culture and breathtaking beauty. Whether you're soaking in the views from a ferry, engaging with locals on a bus, or marveling at the bird's eye view from a plane, the journey from Phuket to Koh Samui is sure to be a memorable part of your Thai adventure.
DIRECT FLIGHT FROM PHUKET TO KOH SAMUI​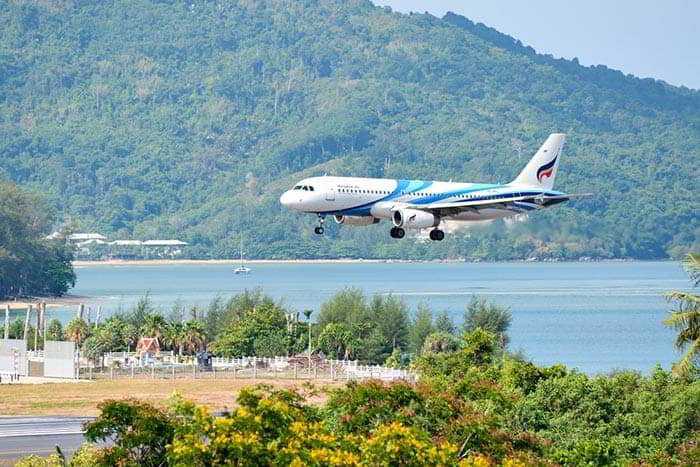 The only Phuket to Koh Samui flights we recommend are direct. Bangkok Airways built Samui International Airport in 1989 and today is considered one of the most beautiful airports in the World!. Being a privately owned airport, fees are set up for profit and that reflects on ticket prices. More than one million passengers arrive to Koh Samui by plane. Flights from Phuket International Airport HKT.
Around 55 minutes direct flight.
Average price ranges from ฿3500  to ฿4500 for one way tickets per person
Flying to Koh Samui is the fastest way to get to the island from Phuket.
It is a direct route with no hassle.
It is the most confortable option.
Expensive. Samui International Airport is a privately own by Bangkok Airways, and it operates for profit. Airport fees makes flying to Koh Samui costly.
Limited luggage on standard flights.
High carbon footprit.
BUS TO DONSAK + FERRY TO KOH SAMUI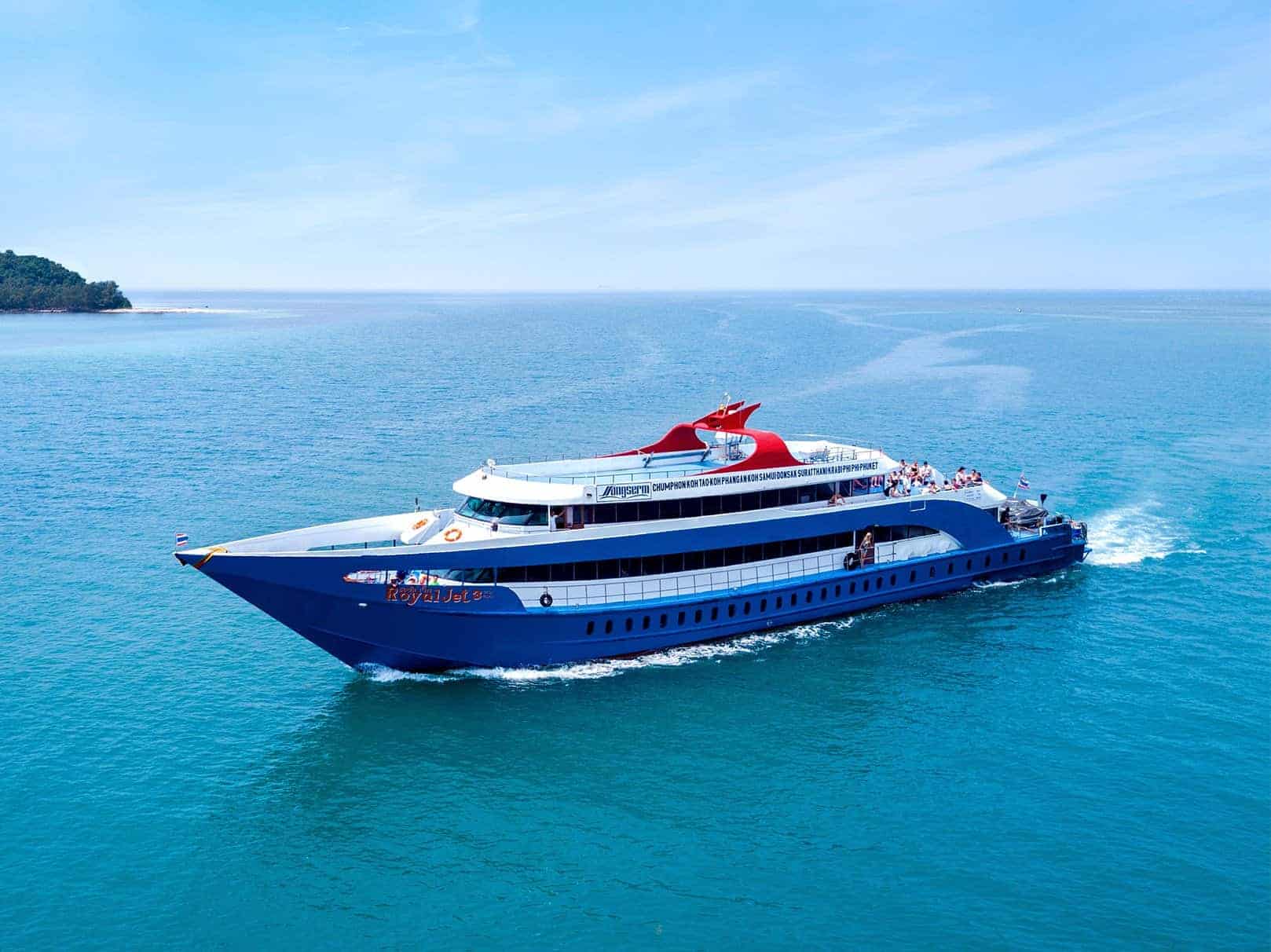 TIP: You can't go wrong with Lomprayah. They can even provide transportation door to door. From your resort in Phuket to your resort in Koh Samui. They have shuttle vans waiting a the Samui piers. Pricing is much more affordable than a direct flight.
2 Changes including Bus and Ferry. (3 counting the van that takes you to your hotel if you are booking Phuket to Koh Samui door to door)
1 Stop at Donsak pier before getting to Koh Samui
From ฿480 for one way trips. Average of ฿800 for return tickets.
Inexpensive.
Beautiful scenery.
Longer than taking a flight. Some operators are more comfortable than others. You can't go wrong with Lomprayah who can additionally provide transportation to your resort from the Koh Samui piers.
PHUKET TO KOH SAMUI SUMARY
Fast & Comfy
Flying from Phuket to Koh Samui takes 55 minutes. If money is not an issue take a direct flight and save yourself 8 hours laying on the beach.
Fun Experience​
Scenery is interesting if you take the bus + ferry option. Flying direct to Koh Samui is faster but you don't have to go through security at the Airports.
On a budget​
Bus + ferry offers the best value. Just make sure you chose an operator with good level of comfort that leaves you close to your resort.
WHERE DO YOU STAY IN KOH SAMUI?
Consider the closest arrival point to your destination in Koh Samui. It will save you time and money!
Choose an itinerary that gets you to your resort faster and cheaper.
Koh Samui taxi services can be expensive. It can take you up to an hour to get to your hotel!