Night Markets in Koh Samui
A guide to Koh Samui Markets
Top 6 Night Markets in Koh Samui
Koh Samui street markets are a popular tourist attraction in Thailand, but they are also an important part of Thai culture. They draw locals and tourists alike to explore unique items, tasty food and lively entertainment. You can find a night market in Koh Samui almost every day of the week. Whether you're looking for a last-minute souvenir or an exciting new adventure, there's no shortage of night markets in Koh Samui waiting to be explored.
Below, there is a selection of our 6 favorite Koh Samui night markets :
These markets are the perfect excuse to visit different locations on the island.  You will get the chance to explore Koh Samui nightlife, try the local street food and buy some souvenirs. Each location has its own charming vibes and gives you an opportunity to meet and mix with Thai people and enjoy their local entertainment. If you travel with kids, night markets are a great choice for the evening because the streets are close to traffic. Local restaurants and bars remain open too, and the atmosphere is phenomenal.
Night Markets in Koh Samui are a great way to kick off the evening. Don't miss them!
Tips for enjoying delicious food safely at Thai Markets
Watch the locals: chances are you will get something yummy at a good price, if a food stall has queues, or you find the nearby tables packed with locals. Safe bet it's tried, tested, tasty. Go for it!
Trust your eyes: if it looks and smells yummy, it probably is. You will find some fruits and dishes you may have never seen before. Once you've sampled a bunch of harmless-looking dishes, you'll probably have confidence to have a bite of something more daring.
If you want to play it safe, go for pad thai or mango sticky rice but, if you feel courageous enough, you may want to taste other local specialities like crocodile, scorpion, spider, grasshopper and worms. They say these taste like chicken!
Bring the fire brigade: it's always good to have a cold beer or an iced coconut close by, just in case things get a little hotter than expected. 
Useful language when ordering food in Thailand: 
Not spicy – mai pet. A bit spicy – pet nit noi. Spicy – pet. Very spicy – pet pet.
Tips for buying souvenirs & Art at Thai Markets
Shop around: Take your time visiting a few stands, and asking for some prices before making your decision. There is a good chance you may find 2 or 3 stands selling the same or similar articles. Compare prices before buying.
Same same: beware of paying too much for poor quality imitations!
Expect to haggle: This is Thailand, and haggling at the markets is part of its "charm". After a few days haggling, you will probably hate it, but if you don't do it you risk paying 2 or 3 times the price. As a rule of thumb, slash the price in half if you think they are pitching too high and let the fun start.
Note: Be sensitive when negotiating Buddha images, Thais may find it offensive haggling to "hard" for religious items and souvenirs. 
Local artists: Many stands found at night markets in Koh Samui and other Thailand Night Markets sell similar stuff: the same souvenirs, carvings and clothes. But there are hidden gems to be found, made by local artists. Open your eyes and look for local artists for paintings, jewelry and other ornaments. 
Coconut is the local material used to make many of the ornaments. You will find plenty of beautiful and ingenious carvings made from coconut shells, including painted bowls, lamps, hangers, toys.
Main Street Markets in Koh Samui
FISHERMAN'S VILLAGE
KOH SAMUI
The biggest walking street market in Koh Samui. It goes from the Wharf to the end of the Fisherman's walking street along Bophut Beach. It offers an array of street food selection, drinks, souvenirs, street performances, restaurants and shops to keep you busy for hours.
Fisherman´s Village walking street, offers so many options for visitors on their night market days! The area is packed with local restaurants, bars and shops. Have a walk on the beach, dine on the sand and enjoy local performers.

Best for:
Families with children
Organic food
Spending the whole evening

Opening Hours:
Monday, Wednesday and Friday (main day)
5PM to 11PM

Location:
Fisherman's Village, Bophut
LAMAI
NIGHT MARKET
Lamai Sunday Market is one of the busiest walking streets in Koh Samui. There is a big selection of local and international street food specialities. Street performances and abundant souvenirs make Lamai night market a fum plan for a Sunday night.

Lamai area is a bit less developed than Chaweng or Bophut, therefore the night market is a bit more "authentic". Lamai Market is popular among visitors as locals alike. Street performances, plenty of souvenirs available and local street food

Best for:
Souvenir hunting
Street performances
Spending the whole evening

Opening Hours:
Sundays
5PM to 11PM

Location:
Lamai Beach Road
MAENAM
WALKING STREET
A Koh Samui market with direct access to Maenam beach and a good selection of street foods. There is a popular Chinese Shrine Temple walking down the road towards the beach. Chinese Celebrations are the perfect time to visit Maenam Market. Don't miss it during Chinese New Year.

Maenam beach tends to be quieter than others in the north side of the island. If you want to grab some food and have a sunset walk on the beach Maenam Walking Street is a good choice.

Best for:
Visiting Maenam Beach
Sunset views of Koh Phangan
Chinese celebrations

Opening Hours:
Thursdays
5PM to 11PM

Location:
China Town, Maenam
CHOENG MON
NIGHT MARKET
A miniature floating market theme perfect to chill out with live music and a relaxing atmosphere. Take a table at the lake or take away some delicious street Thai food. Choeng Mon Market finished recently some renovations and it looks and feel better than ever!

Choen Mon Night Market is a small market, great to have dinner at one of the nearby restaurants or grab some food. Stay at the market for dinner after a beach day in Choeng Mon Beach!

Best for:
Take away food
Relaxing around the lake
Relaxing atmosphere

Opening Hours:
Wednesdays
5PM to 11PM

Location:
Choeng Mon, around Muang Samui Hotel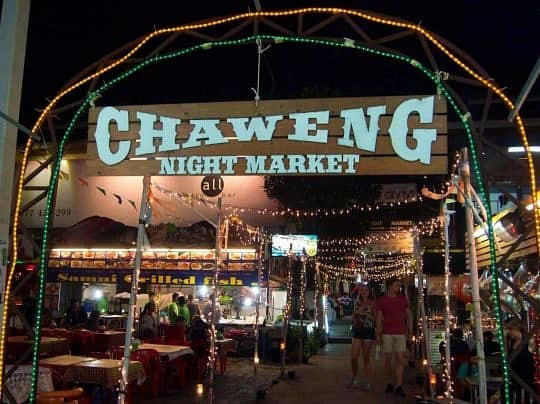 CHAWENG
NIGHT MARKET
Chaweng Night Market is mainly for dining. Presented as a large outside food court near Chaweng Lake, it offers a fantastic array of dining options, including Thai and International styles. It opens almost every day! If you just want to get some street food in the area, Chaweng Night Market is a good option. There are tables and chairs to sit on and enjoy your food.

Koh Samui nightlife is especially vibrant in Chaweng. The night market is a great place to start. You can followup withh a Muay Thai fight night or some party time in the clubbing area nearby!

Best for:
Mainly dining
Value for money
Street food court style

Opening Hours:
Mondays to Saturdays
5PM to 11PM

Location:
Behind Star Gym, Chaweng
CENTRAL FESTIVAL
MARKET
This night market is a great excuse to spend a Wednesday afternoon shopping at Central Festival mall in Chaweng. The market has a wide selection of street food. Tables and chairs are available to enjoy your food or cocktail. There are live performances from local bands on market days!

Central Festival it is the most exclusive shopping mall in Koh Samui. Plenty of shopping options, cinema, restaurants and children play area. Tip: There is a free parking area in the mall to park your car.

Best for:
Shopping day
Families with children
Visiting Central Festival in Chaweng

Opening Hours:
Wednesdays
5PM to 11PM

Location:
Central Festival Chaweng, parking lot
Map Guide for the Local Markets
ONE OF OUR FAVORITES FOOD STANDS​