Koh Mudsum: An Offbeat Paradise, Populated with… Pigs!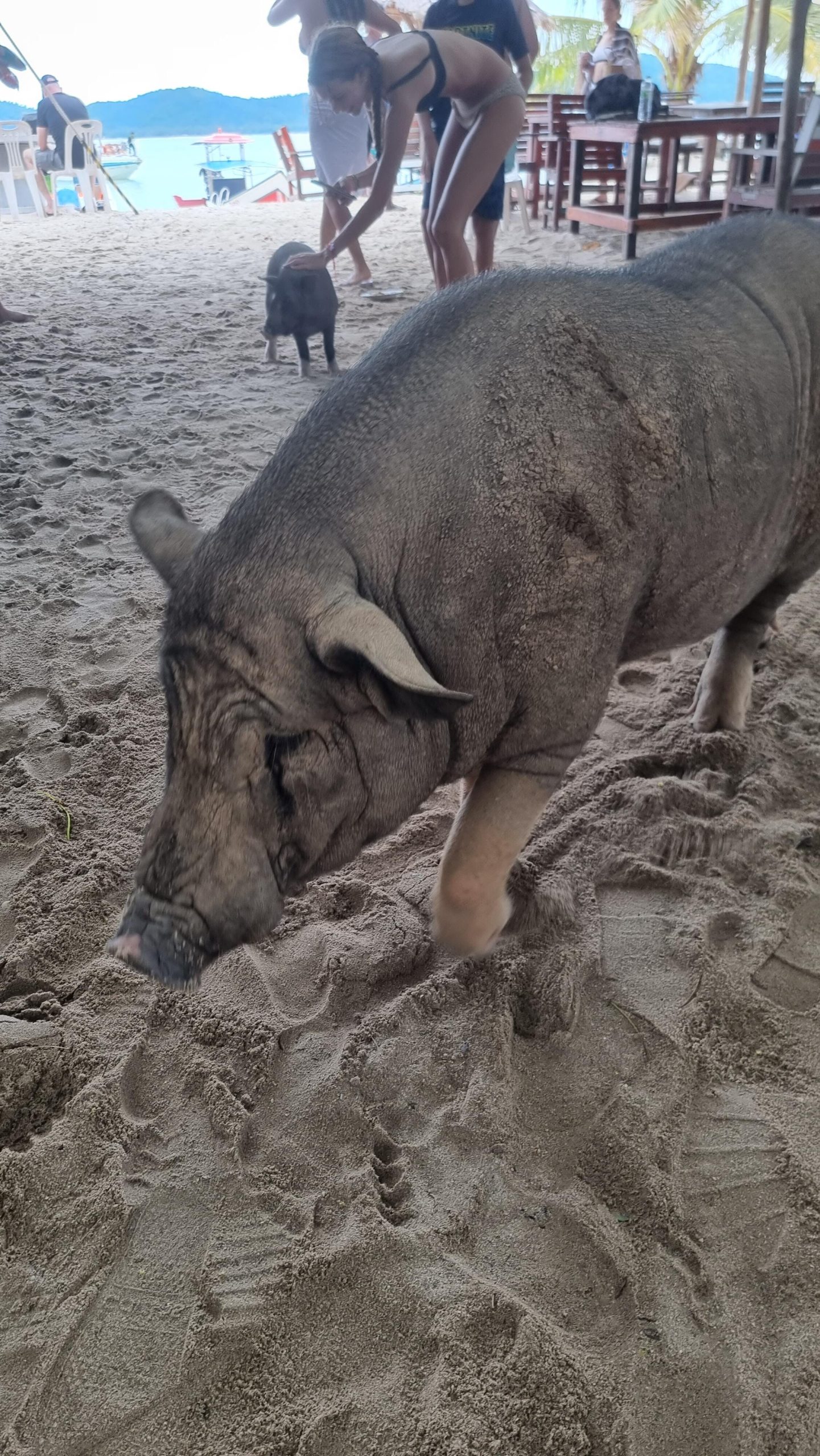 Located off the southern coast of Koh Samui, Thailand, lies the charming and lesser-known island of Koh Mudsum (Ko Mat Sum). Also famously known as Pig Island, it has become an exotic retreat for those in search of an offbeat travel experience. Organise tours usually include snorkelling in the nearby island Koh Taen.
Koh Mudsum is famed for its sandy beaches, clear blue waters, and the unlikely locals, a charming population of semi-wild pigs who call this island their home. These friendly pigs have not only given the island its moniker but also added a quirky uniqueness to the visitor experience.
Imagine spending your day lazing on the sandy beaches, snorkeling in crystal clear waters, and engaging in an unexpected meet and greet with the resident pigs. Sounds like a dream, right? Koh Mudsum offers a blend of relaxation, adventure, and novelty.
The Island's main attraction is its thriving pig population. The pigs, introduced here several years ago, have since become a natural part of the island's ecosystem. Watching these animals frolic in the sand, greeting alongside visitors, makes Koh Mudsum an Instagrammer's paradise, so get your camaras ready!
While pigs may steal the limelight, the natural beauty of Koh Mudsum is equally captivating. The golden sandy beaches, framed by lush green palm trees, invite you for a soothing sunbath. The crystal-clear water is perfect for a refreshing swim or snorkeling to explore the vibrant marine life.
Things to do on Koh Mudsum:
1. Interact with the Pigs: It's not every day you get to sunbath with pigs! Make the most of this unique experience, but remember to respect these creatures and their habitat.
2. Snorkeling: Don't miss exploring the beautiful coral reefs and tropical fish species in the clear waters around the island.
3. Kayaking: If you're up for a bit of adventure, rent a kayak and explore the surrounding waters at your own pace.
4. Picnicking: Enjoy a leisurely picnic on the pristine beach. Just remember to clean up after yourself to preserve the island's beauty if you bring your own food, or for something extra special look at our favourite Private Picnic Tour.
5. Photography: With its stunning landscapes and peculiar residents, Koh Mudsum offers endless opportunities for amazing photographs.
Koh Mudsum offers a truly unique and unforgettable experience for travellers. It's a place where you can relax, unwind, and engage with nature in its purest form. So, if you're planning a trip to Thailand, consider including this hidden gem in your itinerary. And remember, your visit should be as much about respecting and preserving the local ecosystem as it is about enjoyment. Safe travels!
Plan Your Visit: Pig Island can be visited as a day trip from Koh Samui. Several tour companies offer boat rides to the island, including return trips.
Respect the Pigs: Always maintain a respectful distance from the pigs, avoid feeding them, and never chase or scare them.
Protect the Environment: Keep the beach clean and refrain from touching or stepping on the coral while snorkeling. It's crucial to leave the place as pristine as we found it.
Stay Hydrated and protect from the sun: The tropical sun can be strong, so make sure to carry a reusable water bottle, wear sunscreen, and protect yourself with a hat or a parasol.