Nestled in the serene lap of Koh Samui's southeastern hills, the Wat Khao Chedi temple offers an engaging blend of spiritual solace and cultural exploration. Unfolding across a sprawling space, the temple, its surroundings, and their history form an enchanting tale of Thailand's rich religious and architectural heritage.
Wat Khao Chedi, also known as the 'White Temple', is a mesmerizing site that sits atop a hill, cocooned by verdant tropical vegetation. As you ascend the winding path to the temple, you'll encounter countless fluttering prayer flags, infusing the air with a sense of peace. When the breathtaking panorama of the shimmering Gulf of Thailand, the island's vast coconut plantations, and the nearby islands comes into view, you'll know you've reached your destination.
Greeting you at the temple entrance is the main chedi or stupa, painted an immaculate white. This stupa, reminiscent of a Burmese style pagoda, stands majestically against the clear blue skies, creating a picture-perfect frame. Its delicate carvings and intricate detailing of motifs are a testament to the skills of Thai artisans. The chedi, being the central figure of the complex, represents the Buddhist path towards enlightenment, a vital tenet of Buddhism.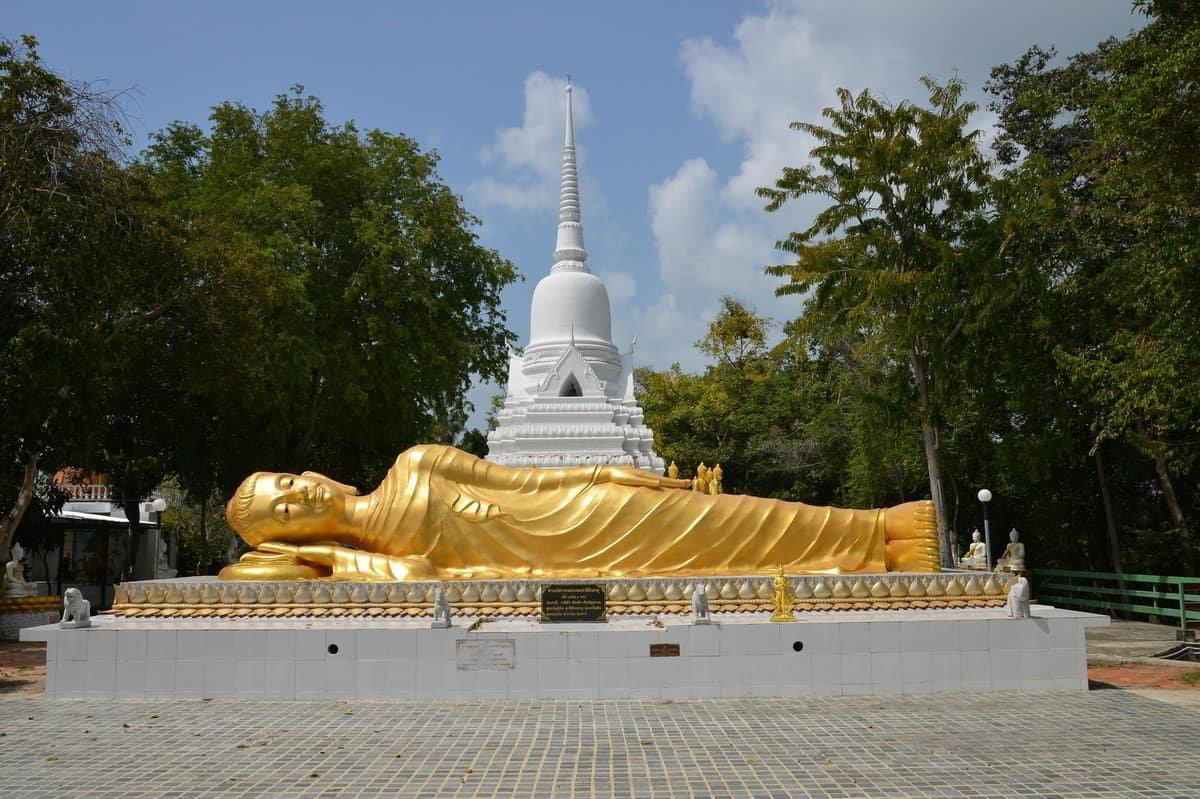 Exploring further, you'll discover numerous statues scattered throughout the complex. These statues are not just artistic representations but also serve as windows to Buddhist mythology and teachings. Among the most striking are the figures of the revered Buddha in various postures, each representing different aspects of his life and philosophy. Do take a moment to appreciate the elegant craftsmanship and the religious symbolism inherent in these figures.
Look at the ornate carvings on the temple walls and pillars. Depicting scenes from the Jataka tales (stories about Buddha's previous lives), historical events, and celestial beings, these carvings serve as visual narratives, encouraging contemplation and understanding of Buddhist principles.
As for the history of Wat Khao Chedi, it dates back to the late 20th century, making it relatively new compared to many ancient Thai temples. Nonetheless, its design incorporates elements from different Buddhist architectural styles, bearing witness to the rich tapestry of cultural exchanges in the region.
The temple also holds special significance during Buddhist festivals. On full moon nights, locals and visitors alike gather here to pay respects, meditate, and participate in candle-lit processions, creating a unique, spiritual ambiance that's both calming and captivating.
Visiting Wat Khao Chedi is as much of about the impressive view as for immersing yourself in a rich cultural experience.
Dress Appropriately: Like all religious sites in Thailand, modest dressing is expected when visiting Wat Khao Chedi. Cover your shoulders and knees as a sign of respect.
Stay Hydrated: The hillside climbs can be quite strenuous, especially during the hotter parts of the day. Carry water to stay hydrated specially if your are following a KohPlan involving hiking.
Quietness is a Virtue: Maintain a peaceful environment by speaking softly and turning off your mobile phones' sound.
Photography: While photographs are generally allowed, refrain from posing disrespectfully with the statues and carvings.
Donations: Maintaining cultural sites like Wat Khao Chedi requires resources. If you can, consider leaving a small donation at the designated spots.