Tan Rua Waterfall - Secret Falls
Imagine a day spent exploring a tropical paradise, where the only sound you hear is the gentle rustle of leaves and the steady rhythm of falling water. Such is the experience when you visit Tan Rua Waterfall, an enchanting oasis tucked away in the lush greenery of Maenam, Koh Samui. Often referred to as the 'Secret Falls,' Tan Rua provides a unique retreat from the bustling tourist centers of Thailand's third-largest island.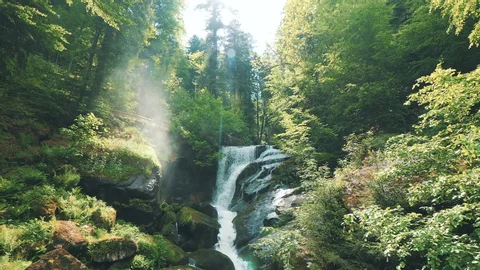 Largely concealed by the verdant bush, Tan Rua has maintained its air of serenity and solitude despite its growing popularity. Its secluded location in the woodland contributes to its more local name – 'Secret Falls.' The sense of discovery that comes with locating this hidden treasure adds to its charm.
Getting to the waterfall has become increasingly accessible over the years. Nowadays, visitors can conveniently drive up a concrete road to a designated parking area. From here, an unpaved trail, negotiable by scooter or on foot, winds through the wilderness to the waterfall. Along the route, quaint wooden steps mark the start of a hike towards the Mae Nam View Point, an additional highlight of this adventure.
Situated amidst cliffs, trees, and vines, Tan Rua is a sight to behold. The waterfall cascades into a deep pool that brims during the rainy season and for several months beyond, providing a picturesque spectacle. The pool, however, isn't suitable for swimming due to rocks and vines that lurk beneath its surface. Visitors are therefore advised to tread cautiously around this area.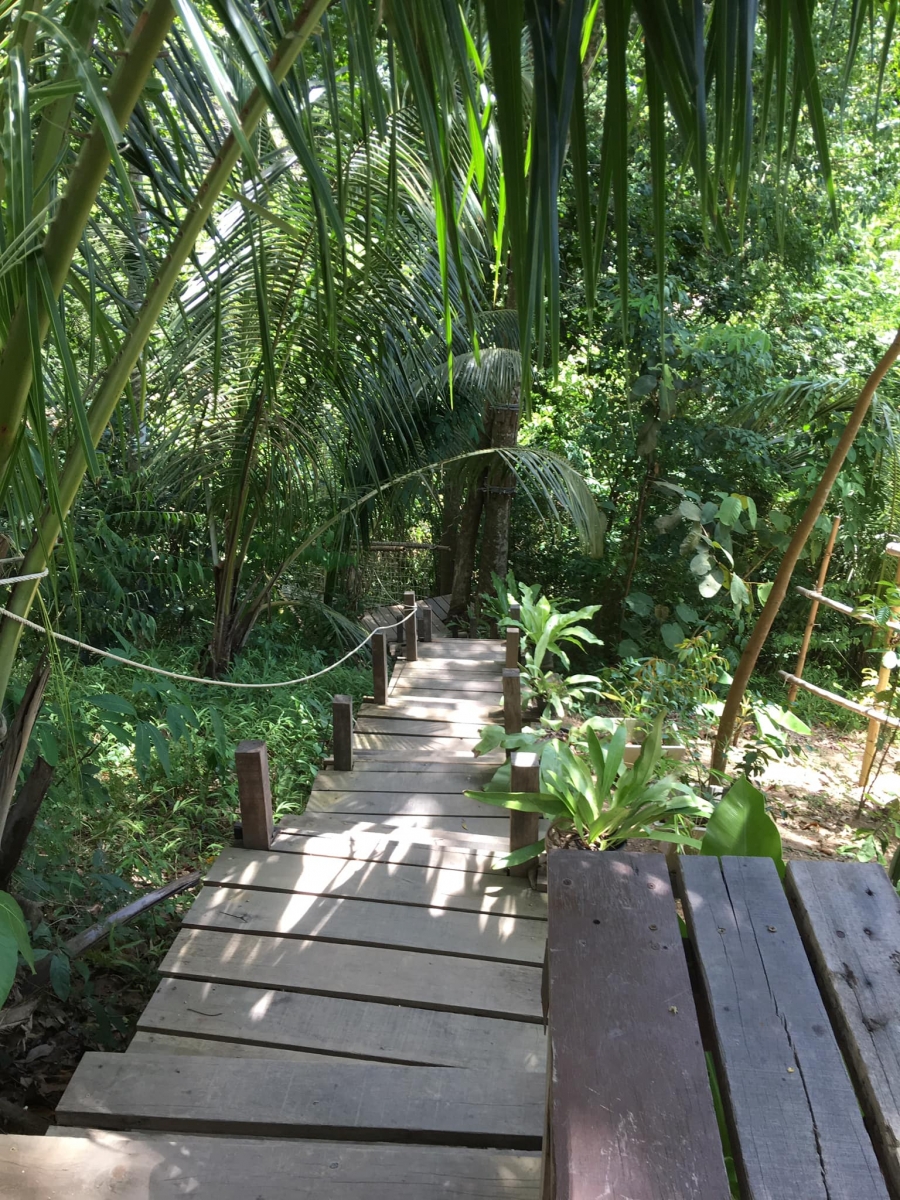 Tan Rua is a paradise for nature enthusiasts and thrill-seekers alike. The surrounding landscape, replete with rich vegetation, forms a tranquil backdrop where you can savor the cool breeze and the calming sounds of nature. Photographers, in particular, will find plenty of stunning scenes to capture, from the majestic waterfall to the panoramic views offered by the Mae Nam viewpoint.
A mere 250 meters from the waterfall, there is a quaint café that blends seamlessly into the surroundings. Here, visitors can indulge in a variety of delectable dishes while soaking in the stunning views of the waterfall and the enveloping forest. Have a look!: Tree Bridge Coffee
While visiting Tan Rua, it's wise to wear sturdy shoes due to the uneven terrain. Insect repellent is also recommended to ward off any unwelcome attention from the local wildlife. While the falls are relatively easy to access, it is always advisable to travel in small groups for safety.
Despite the minor challenges that might be encountered on the path, Tan Rua Waterfall's breathtaking beauty makes it a worthy addition to your travel itinerary. This secret falls is indeed a hidden gem that offers a respite from the typical tourist-packed destinations. It promises an unparalleled communion with nature, an opportunity to unwind, and a unique chance to experience the enchanting serenity that Koh Samui has to offer.
Tan Rua Waterfall serves as a testament to the untouched beauty of hidden areas in Koh Samui. This largely undiscovered wonder rewards its visitors with spectacular vistas, a peaceful ambiance, and an unforgettable adventure, making it a must-visit for anyone seeking to explore the road less travelled.
TREE BRIDGE CAFE AND ZIPLINE | JUNGLE FLIGHT ADVENTURE IN KOH SAMUI
Overview:
Thrillseekers and nature lovers visiting Koh Samui —this one's for you. Glide through the jungle and discover incredible views by taking part in a ziplining adventure. Don't worry about bringing anything with you as all required equipment is provided—such as a helmet, harness, and a bag. Along the way, see a hidden waterfall and spectacular treetop views, and have a refreshment break in the atmospheric Tree Bridge Cafe.
Hassle-free ziplining experience with guides to assist you
Trip includes round-trip transfers from select locations
Access incredible views of a hidden waterfall and the rainforest
Stay energized: Tour includes soft drinks
What's Included:
Free roundtrip transfer from Maenam, Bophut, Chaweng, Choengmon

All safety equipment

Soft drink

Accident insurance

English speaking guide

Full Training and Safety Guide
Accessibility: You can conveniently drive up a concrete road to a designated parking area. From there, you can continue on an unpaved trail by scooter or foot to reach the waterfall.
Hiking Gear: Wear sturdy shoes suitable for uneven terrain, which you will encounter on the hike towards the waterfall and the Mae Nam View Point.
Preventive Measures: Use an insect repellent to ward off any insects that might be present in the surrounding woodland area.
Safety: Even though the waterfall is relatively easy to reach, it's advisable to travel in small groups for safety reasons.
Swimming: Avoid swimming in the pool at the base of the waterfall due to the presence of rocks and vines beneath the surface.
Refreshments: Remember that there's a café near the waterfall (about 250 meters away), where you can relax, grab a bite, and enjoy the stunning views.
Photography: Don't forget your camera! The picturesque scenes from the waterfall to the panoramic views offered by the Mae Nam viewpoint are worth capturing.
Exploration: Take the time to explore the area fully, not just the waterfall but also the surrounding forest and the viewpoint. Each offers its own unique charm and beauty.
Tan Rua Waterfall, with its lush surroundings and tranquil ambiance, is likely to appeal to a wide range of visitors. Here are some specific groups who would particularly enjoy the visit:
Nature Lovers: With its rich vegetation and the soothing sounds of the waterfall, Tan Rua provides an ideal environment for those who love to be immersed in nature.
Adventurers and Explorers: Those seeking off-the-beaten-path experiences would find the hike to Tan Rua and the subsequent discovery of the waterfall a thrilling adventure.
Photographers: The waterfall, combined with the surrounding landscape, offers countless opportunities for photographers to capture stunning images.
Hikers and Walkers: The journey to the waterfall involves some hiking, making it an enjoyable outing for those who appreciate a good walk in the woods.
Mindfulness Seekers: Individuals seeking a peaceful environment for meditation or mindfulness exercises would find the serene sounds and sights of Tan Rua conducive to relaxation and contemplation.
Bird Watchers and Wildlife Enthusiasts: The surrounding woodland is likely to house a variety of local wildlife and birds, making it an interesting spot for bird watchers and wildlife enthusiasts.
While Tan Rua Waterfall offers an enticing experience to a variety of visitors, certain types of individuals might need to reconsider their visit for various reasons:
Visitors with Mobility Issues: The terrain to reach the waterfall involves unpaved trails and a hike which could be challenging for those with mobility issues, or those who are not comfortable with uneven paths.
Families with Small Children: While older children might enjoy the adventure, families with small children might find the hike challenging. Additionally, the deep pool at the waterfall's base can pose a safety risk for young ones.
Swimming Enthusiasts: If you're looking forward to a waterfall swim, you might be disappointed. Swimming is not recommended in the pool at the base of the waterfall due to the presence of rocks and vines.
Tourists Preferring Luxurious Amenities: If your idea of a vacation involves luxury amenities, and guided tours, Tan Rua might not be your ideal destination. It's more of a rustic, off-the-beaten-path experience.
Visitors Afraid of Insects/Wildlife: As the waterfall is in a woodland area, it's natural to encounter some insects and wildlife. If this makes you uncomfortable, you might want to choose a different location.
Travelers on a Tight Schedule: If you're on a tight schedule, keep in mind that the trip to Tan Rua isn't just a quick stop. The hike, exploration, and relaxation by the waterfall demand a significant chunk of time.