Illusions Theatre in Koh Samui offers an incredible Magic and Mentalism Show that promises an evening of fun, excitement, and mind-boggling illusions. Located at the Outrigger Resort, the theatre provides a comfortable and intimate setting for the show.

If you're looking for other attractions in the area, Thong Takhian Beach (Silver Beach) and Speed Bar are great options. These are within walking distance from Illusions Koh Samui. We will be preparing KohPlans with the show included in them as they offer an amazing experience no one fan of magic and standup comedy should miss.
The Magic and Mentalism Show at Illusions Koh Samui is known for its amazing magic tricks and mind-reading abilities. The talented magician, Ed Clarke, keeps the audience engaged and entertained throughout the performance. From card tricks to stage illusions, he showcases a wide variety of acts that will leave you amazed and wondering how it's done.
One of the highlights of the show is the high level of audience participation. Almost every trick involves members of the audience, making it a truly interactive experience. At the front row or further back, be prepared to be involved in the magic.
The theatre is well-designed with comfortable seating, allowing everyone to have a clear view of the stage. The venue also features a pop-up bar area where you can grab drinks and snacks before or during the show.
Illusions Koh Samui is open on Mondays, Wednesdays, and Fridays from 6:30 PM to 10:30 PM. You need to book your tickets in advance to secure your spot and chose your seats. BOOK NOW TO SECURE YOUR SEATS.
This Magic and Mentalism Show is suitable for all ages, making it a great plan for families or a fun evening out with friends. Even for a rainy day activity or if you want to be entertained taking part in something intimate and unique, Illusions Koh Samui guarantees a memorable experience.
Visitors have praised the show for its entertaining performances and skilled magician. The comedy element adds to the overall enjoyment, and the audience participation makes it super engaging. Guests have been amazed by the card tricks and other illusions performed by Ed Clarke.
Illusions Koh Samui offers an unforgettable Magic and Mentalism Show perfect to amaze and entertain you and your loved ones. With its talented magician, interactive performances, comfortable seating, and positive reviews from visitors, its worth a visit when in Lamai Beach to break the routine and have some fun!
Relevant Information:
Great for Kids
Bar or Restaurant Onsite
Select your date and seats available and get ready for the show BOOK NOW HERE!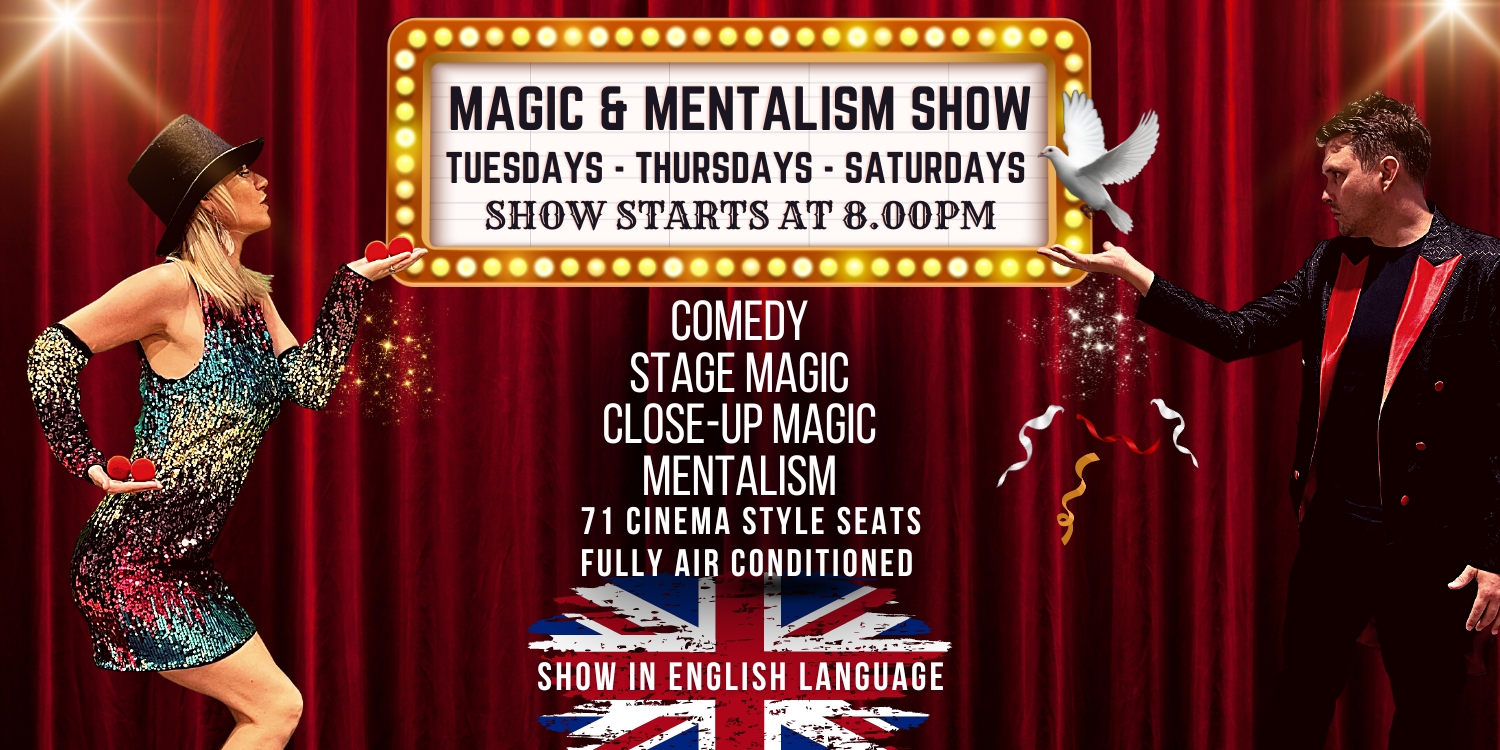 Show Duration: 1 hour 30 minutes (Approx)
The Illusions Magic Show is an incredible experience that will leave audiences captivated and amazed. It features stunning stage magic, parlour magic and close-up illusions right before your eyes.
The show is sure to enchant both young and old with its mysterious performances. With the Illusions Magic Show, customers are guaranteed to be entertained by the skilled magician as they demonstrate their skillful sleight of hand and mentalism techniques.
You can enjoy this breathtaking show in comfort. Illusions theatre has 71 comfy auditorium seats and is fully air conditioned.
With this incredible show, customers are promised an unforgettable experience that will leave them wanting more.
Please ensure you arrive at least 10 minutes early. There is a bar outside the theatre for refreshments.
The performer "Ed Clarke" has performed magic all over the world including Las Vegas and has made several T.V appearances.
The Magic and Mentalism Show at Illusions Koh Samui is perfect for people of all ages including:
Magic Enthusiasts: If you have a fascination for magic and illusions, this show is perfect for you. The Magic and Mentalism Show at Illusions Koh Samui offers a variety of mind-boggling tricks and illusions that will leave you amazed and wanting more.
Families: The show is suitable for families, making it a great option for a fun night out together. The interactive nature of the performances allows children and adults alike to participate and be entertained.
Couples: Looking for a unique and entertaining date night idea? The Magic and Mentalism Show offers a captivating experience that will leave you and your partner mesmerized by the incredible illusions.
Visitors: If you're visiting Koh Samui and looking for an exciting evening activity, this show is a fantastic option. It provides a break from the beach and gives you the opportunity to witness world-class magic right on the island.
Rainy Day Seekers: When the weather is not cooperating, the Illusions Theatre is a great indoor activity. It guarantees a memorable and entertaining experience, even on a rainy day.
Comedy Lovers: The show incorporates elements of comedy into the performances, making it engaging and enjoyable for those who appreciate humour along with mind-blowing magic. Standup comedy fans will enjoy the show.
Visitors who have an interest in magic, families seeking a fun activity, couples looking for a unique date night, tourists exploring Koh Samui, those seeking indoor entertainment on a rainy day and comedy lovers, should enjoy the Magic and Mentalism Show.