Samui Elephant Sanctuary Chaweng Noi
An ethical paradise for gentle giants in Chaweng Noi, Samui Elephant Sanctuary. One of the few authentic elephant sanctuaries on the island, that offers a heartening experience for all animal lovers, particularly those who prioritise ethical tourism. Samui Elephant Sactuary Chaweng Noi, along with Samui Elephant Sanctuary Bophut and Samui Elephant Haven are the 3 centers considered fully ethical.
This sanctuary is known for its steadfast dedication to the welfare of elephants who have spent most of their lives working strenuously in the logging and tourism industries. Here, these majestic creatures find a safe haven where they can retire in peace, roam freely, socialise with their peers, bathe at their leisure, and savour a life of tranquility.
Unlike many other attractions that market elephant interactions, Samui Elephant Sanctuary puts the well-being and natural behaviour of these gentle giants above all else. They do not offer activities such as elephant bathing, which are known to stress these animals. Instead, visitors are encouraged to interact with the elephants in a respectful and non-intrusive manner. This can range from observing these magnificent beasts from a distance to approaching them gently and even feeding them.
Upon your arrival at the sanctuary, you'll be greeted by a team of enthusiastic and knowledgeable staff members who are passionate about elephant welfare. They provide an enlightening introduction about the sanctuary's mission and the necessity of responsible elephant tourism. They also share gripping stories about the past hardships endured by these elephants, which makes the sanctuary's work all the more imperative.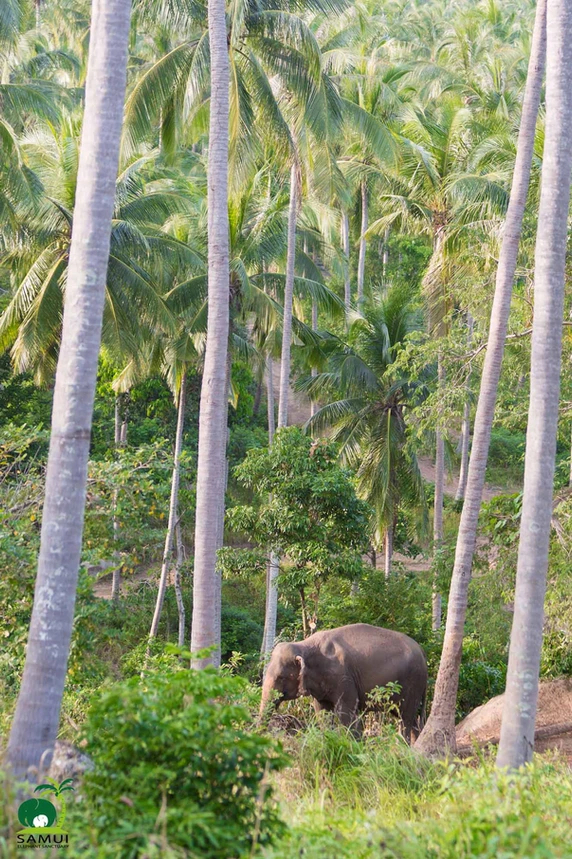 The sanctuary offers both morning and afternoon programs, each lasting over three hours. During these sessions, you'll get the chance to feed the elephants by preparing their meals and then watching them relish their food. It's a delightful scene to witness these gentle giants munching away on the bananas and other delicacies offered by visitors.
A highlight of your visit will undoubtedly be walking alongside the elephants as they meander freely around the sanctuary. The guides will share endearing anecdotes about each elephant, providing insights into their unique personalities and backgrounds. The opportunity to be in such close proximity to these impressive creatures is both and exciting and humbling experience.
After spending quality time with the elephants, you can tuck into a scrumptious vegetarian buffet lunch included in the program. With a variety of tasty dishes on offer, there's something to suit every palate. It's a perfect moment to relax, refuel, and reminisce about your incredible experience.
The Samui Elephant Sanctuary has been lauded for its unwavering commitment to animal welfare, bagging prestigious awards like the Best Animal Welfare award from the Tourism Authority of Thailand and recognition from World Animal Protection as a Best Practice Elephant Venue.
Your Visit Makes a difference. By choosing to visit Samui Elephant Sanctuary, you're not just signing up for an unforgettable experience. You're also supporting a commendable cause. The funds raised from visitor programs directly contribute to the upkeep of the sanctuary, ensuring that these elephants receive the necessary food, medical care, and love they need.
Furthermore, your visit helps rescue more elephants from exploitative situations, giving them a chance at a better life. So, whether you're an animal lover, a nature enthusiast, a responsible traveller, a wildlife photographer, an animal welfare advocate, or a cultural explorer, Samui Elephant Sanctuary Chaweng promises to be an enriching experience.
To ensure you secure a spot, it's recommended to book your visit to Samui Elephant Sanctuary in advance. Dress comfortably with suitable footwear for walking around the sanctuary. Don't forget your sunscreen, hat, and insect repellent, and of course, your camera or smartphone to capture those special moments. Follow the sanctuary's guidelines to ensure safety and respect for the elephants, and if possible, support their mission further by purchasing merchandise or making a donation.
By choosing ethical elephant experiences like those offered at Samui Elephant Sanctuary in Chaweng Noi, you're taking a stand against animal cruelty prevalent in attractions that offer elephant riding and similar activities. Together you can make a difference and help create a better future for these incredible creatures.
Book your visit to Samui Elephant Sanctuary in advance to secure your spot, as it tends to be a popular attraction.
Wear comfortable clothing and shoes suitable for walking, as you will be exploring the sanctuary grounds.
Bring sunscreen, a hat, and insect repellent to protect yourself from the sun and bugs.
Don't forget to bring a camera or smartphone to capture the special moments with the elephants.
Follow the instructions and guidelines provided by the sanctuary staff to ensure the safety of both visitors and elephants.
Be respectful of the elephants and their space. Avoid loud noises or sudden movements that could startle them.
Take the time to listen to the stories and information shared by the sanctuary guides. It will enhance your understanding and appreciation of the elephants' journey.
Support the sanctuary's mission by purchasing any available merchandise or making a donation. Remember that your visit helps fund the ongoing care and rescue efforts for elephants.
Take the opportunity to ask questions and learn more about elephant conservation and welfare during your visit. The sanctuary staff are passionate about sharing their knowledge.
Choose ethical elephant experiences like those offered at in Koh Samui like Samui Elephant Sanctuary or Samui Elephant Haven. Please be aware of the cruelty involved on attractions such as riding elephants. We are aware most visitors riding elephants are likely unaware of animal cruelty and the fact that funding these actvities and attractions only encourage manhouts continue their activities. If you have any question regarding ethical tourism in Thailand contact us at [email protected] for advice.
Animal Lovers: If you have a deep appreciation for animals and care about their welfare, a visit to the sanctuary will be incredibly rewarding. Interacting with elephants in a responsible and respectful manner allows you to witness their gentle nature up close.
Nature Enthusiasts: If you enjoy being surrounded by natural beauty, the sanctuary's forested surroundings and lush landscapes will captivate you. Walking amidst the trees and observing elephants in their natural environment is a truly tranquil experience.
Families: Families with children can create amazing memories at the sanctuary. It offers a unique educational opportunity for kids to learn about elephant conservation and the importance of ethical animal tourism. Feeding and interacting with elephants can be an unforgettable experience for children.
Responsible Travellers: If you prioritize responsible tourism and seek out experiences that have a positive impact on local communities and wildlife, the ethical practices of Samui Elephant Sanctuary will align with your values.
Wildlife Photographers: For those who enjoy capturing stunning wildlife moments, the sanctuary provides ample opportunities to photograph elephants in their natural habitat. The close encounters and beautiful surroundings offer excellent photographic opportunities.
Animal Welfare Advocates: If you are passionate about animal welfare and want to actively support ethical initiatives, visiting the sanctuary allows you to contribute directly to the well-being of elephants. You can see firsthand how responsible elephant tourism can make a difference.
Cultural Explorers: For those interested in learning about local culture and traditions, visiting Samui Elephant Sanctuary provides insights into Thailand's relationship with elephants and the ongoing efforts to promote ethical treatment.