Samui Elephant Haven is a remarkable sanctuary located on the tropical island of Koh Samui. It is one of the three elephant sanctuaries on the island that are committed to providing a safe and ethical environment for these majestic creatures. With its focus on the well-being and happiness of the elephants, Samui Elephant Haven has gained a reputation as a truly special place.
The sanctuary is in the heart of Bophut and offers a unique opportunity for visitors to connect with these gentle giants in a responsible and sustainable manner. Unlike other tourist attractions where elephants are forced to perform tricks or give rides, Samui Elephant Haven prioritizes the welfare of the elephants above anything else and is popular for rescuing elephants from these places.
One of the things that sets Samui Elephant Haven apart is its dedication to rescuing and rehabilitating elephants that have been subjected to years of abuse. The sanctuary provides a safe haven for these troubled elephants, offering them a chance to recover and thrive in a loving and caring environment. The staff at Samui Elephant Haven work tirelessly to ensure that these elephants receive the care, attention, and love they deserve.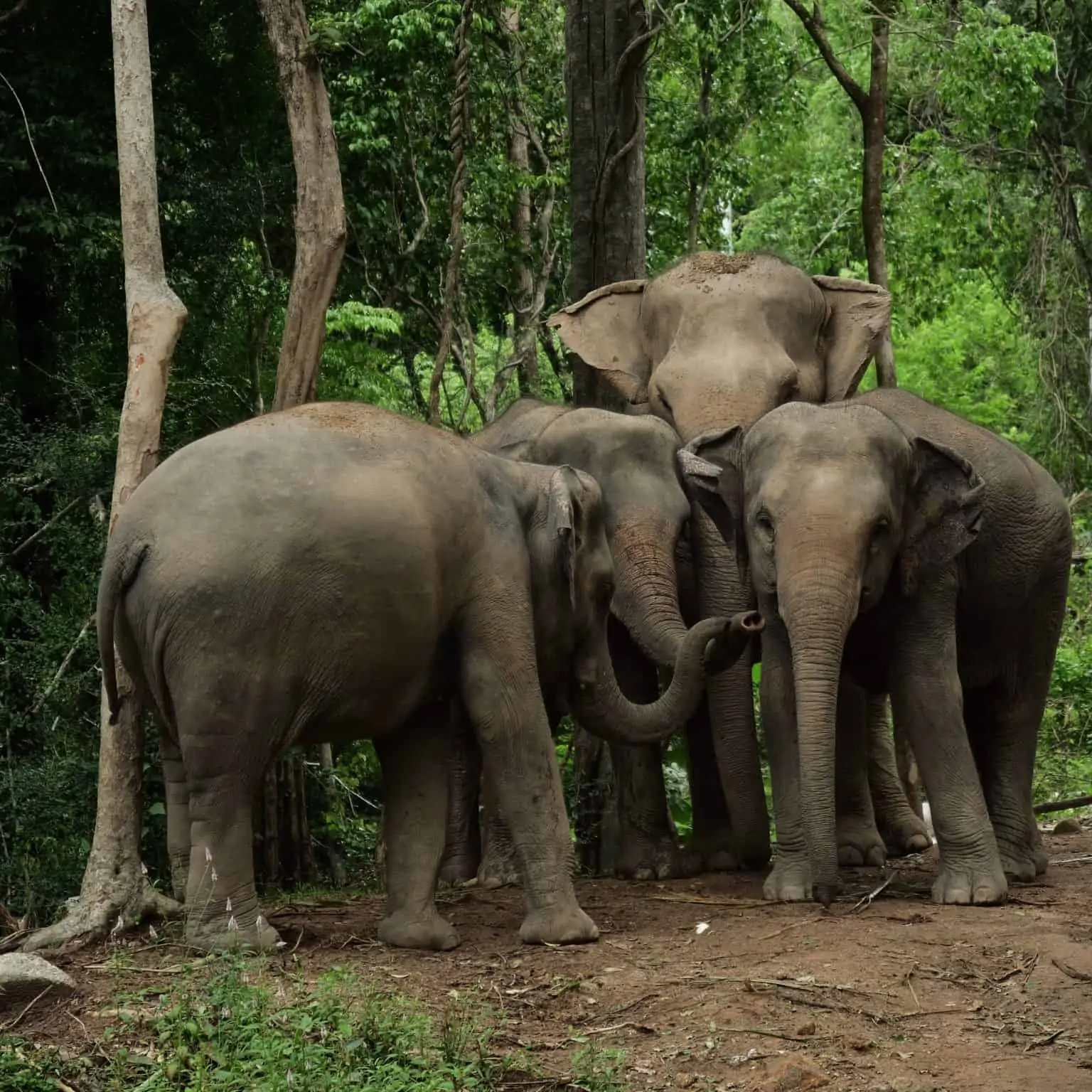 Visitors to Samui Elephant Haven can participate in morning and afternoon tours, allowing them to witness firsthand the incredible bond between the elephants and their caretakers. The knowledgeable guides provide insightful information about the history of the sanctuary and its residents, sharing stories about each individual elephant and their unique personalities.
During the tour, visitors have the opportunity to prepare food for the elephants and feed them, forging a deeper connection with these magnificent creatures. The experience of looking into their eyes and interacting with them is an unforgettable experience for most.
Samui Elephant Haven also offers fully immersive week-long programs for those who wish to have a more in-depth experience. These programs provide a deeper understanding of elephant care and conservation efforts. Additionally, the sanctuary offers vegetarian cuisine and complimentary cooking classes, allowing visitors to indulge in delicious meals while supporting the cause.
Regular events are organized at Samui Elephant Haven, providing opportunities for visitors to learn more about elephant conservation and the sanctuary's ongoing efforts. These events create a sense of community and allow visitors to contribute to the well-being of the elephants through their participation.
Visitors to Samui Elephant Haven have shared their positive experiences on Tripadvisor, highlighting the sanctuary's commitment to ethical practices and the well-being of the elephants. They appreciate the knowledgeable and friendly staff who go above and beyond to ensure a memorable and educational visit. The opportunity to interact with the elephants and witness their happiness in a natural environment is often described as a once-in-a-lifetime experience.
While there may be some limitations in terms of hands-on interaction with the elephants, it is important to approach these with a constructive mindset. It is crucial to understand that the focus of Samui Elephant Haven is on providing a safe and stress-free environment for the elephants. By setting the right expectations and highlighting the positive aspects of the sanctuary, visitors can fully appreciate and support the mission of Samui Elephant Haven.
Samui Elephant Haven is a place of compassion, love, and dedication towards the well-being of elephants. It stands out as one of the few truly ethical elephant sanctuaries in Koh Samui along with Samui Elephant Sanctuary Bophut and Samui Elephant Sanctuary Chaweng Noi. By visiting this sanctuary, not only do you have the opportunity to connect with these incredible creatures, but you also contribute to their ongoing care and conservation efforts. Samui Elephant Haven is a must-visit for anyone seeking an ethical and meaningful elephant encounter during their time in Koh Samui.
Book your visit to Samui Elephant Sanctuary in advance to secure your spot, as it tends to be a popular attraction.
Wear comfortable clothing and shoes suitable for walking, as you will be exploring the sanctuary grounds.
Bring sunscreen, a hat, and insect repellent to protect yourself from the sun and bugs.
Don't forget to bring a camera or smartphone to capture the special moments with the elephants.
Follow the instructions and guidelines provided by the sanctuary staff to ensure the safety of both visitors and elephants.
Be respectful of the elephants and their space. Avoid loud noises or sudden movements that could startle them.
Take the time to listen to the stories and information shared by the sanctuary guides. It will enhance your understanding and appreciation of the elephants' journey.
Support the sanctuary's mission by purchasing any available merchandise or making a donation. Remember that your visit helps fund the ongoing care and rescue efforts for elephants.
Take the opportunity to ask questions and learn more about elephant conservation and welfare during your visit. The sanctuary staff are passionate about sharing their knowledge.
Choose ethical elephant experiences like those offered at in Koh Samui like Samui Elephant Sanctuary or Samui Elephant Haven. Please be aware of the cruelty involved on attractions such as riding elephants. We are aware most visitors riding elephants are likely unaware of animal cruelty and the fact that funding these actvities and attractions only encourage manhouts continue their activities. If you have any question regarding ethical tourism in Thailand contact us at [email protected] for advice.
Animal Lovers: If you have a deep appreciation for animals and care about their welfare, a visit to the sanctuary will be incredibly rewarding. Interacting with elephants in a responsible and respectful manner allows you to witness their gentle nature up close.
Nature Enthusiasts: If you enjoy being surrounded by natural beauty, the sanctuary's forested surroundings and lush landscapes will captivate you. Walking amidst the trees and observing elephants in their natural environment is a truly tranquil experience.
Families: Families with children can create amazing memories at the sanctuary. It offers a unique educational opportunity for kids to learn about elephant conservation and the importance of ethical animal tourism. Feeding and interacting with elephants can be an unforgettable experience for children.
Responsible Travellers: If you prioritize responsible tourism and seek out experiences that have a positive impact on local communities and wildlife, the ethical practices of Samui Elephant Sanctuary will align with your values.
Wildlife Photographers: For those who enjoy capturing stunning wildlife moments, the sanctuary provides ample opportunities to photograph elephants in their natural habitat. The close encounters and beautiful surroundings offer excellent photographic opportunities.
Animal Welfare Advocates: If you are passionate about animal welfare and want to actively support ethical initiatives, visiting the sanctuary allows you to contribute directly to the well-being of elephants. You can see firsthand how responsible elephant tourism can make a difference.
Cultural Explorers: For those interested in learning about local culture and traditions, visiting Samui Elephant Sanctuary provides insights into Thailand's relationship with elephants and the ongoing efforts to promote ethical treatment.