Big Buddha (Wat Phra Yai)
Tucked into the northeast corner of Koh Samui you will discover the serene splendor of Wat Phra Yai, more popularly known as the Big Buddha Temple. Renowned for its towering 12-meter high golden statue, that gives its name to the temple, and Bangkrak beach (Big Buddha beach). Big Buddha has become an emblematic image of Koh Samui, beckoning visitors from across the globe to come and soak in its tranquillity and grandeur.
As you approach the temple, a long, dragon-flanked stairway of 73 steps invites you upwards, where you're welcomed by the majestic, seated Buddha. Constructed in 1972, this stunning image, draped in brilliant gold, embodies the Mara posture, symbolizing a time when Buddha, on the brink of enlightenment, overcame earthly temptures. As the sunlight dances on the statue, it creates an aura that's both enchanting and spiritual, a sight you're unlikely to forget.
You'll notice an array of bells, lined along the perimeter of Big Buddha. These bells, both large and small, are integral to the overall spiritual and cultural experience at the temple. In Buddhist culture, bells symbolize wisdom and compassion, and they are used to call upon divine protection and blessings. Their sound is considered sacred, meant to cleanse the mind and spirit, and promote a sense of peace and mindfulness. You can ring these bells, following the tradition that the reverberating sound brings good luck and drives away negative energies. As you walk around the temple complex, gently ringing the bells, you'll be participating in a beautiful cultural ritual that's meant to inspire introspection and tranquility. It's not just about the physical act of ringing, but the symbolism behind it – the spreading of goodwill and positive vibrations.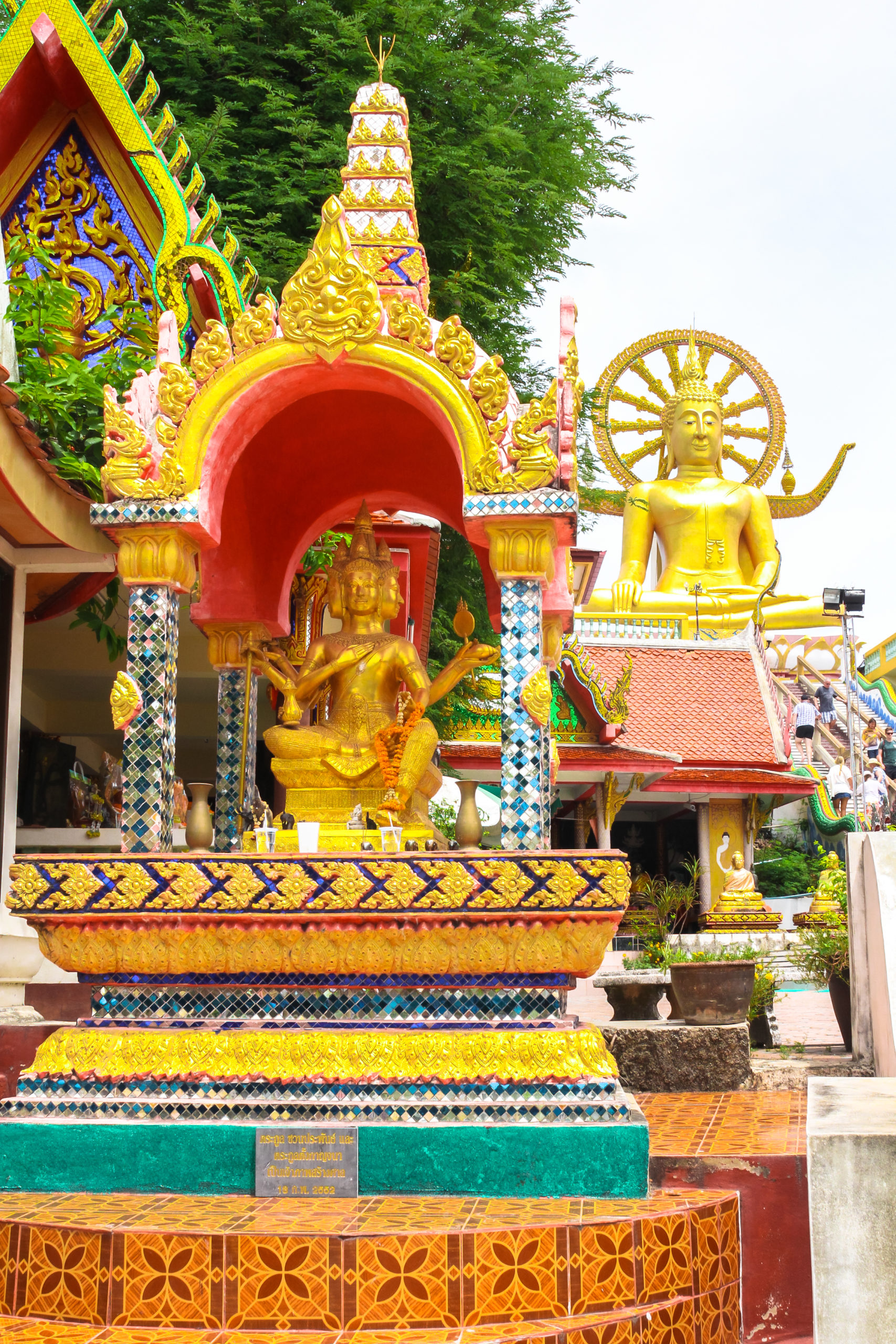 Surrounding the Big Buddha are numerous smaller statues and ornate shrines, each telling their own tale of Buddhist folklore. The carefully carved sculptures and intricate detailing on each shrine make them worthy of a closer look. Additionally, the temple complex houses a modest marketplace, where you can find an array of souvenirs, clothing, and local food. Try not to miss out on the delicious, freshly-made Thai pancakes, a sweet treat that's become a hit among visitors.
Venture beyond the market, and the temple unfolds into an expansive courtyard, paved with white marble and lined with brightly coloured flags fluttering in the sea breeze. There, you'll find the ordination hall, where monks chant their prayers. It's a peaceful setting, perfect for moments of reflection and meditation. Don't miss the opportunity to be blessed if you visit at a time when a monk is giving good fortune, and don't forget to leave a donation.
But the delights of Wat Phra Yai aren't solely confined to the temple. With its privileged location on a small rocky island, the temple offers breathtaking panoramic views of the surrounding seascape. To one side, the shimmering azure of the Gulf of Thailand stretches into the horizon, while on the other, the quaint houses and swaying palm trees of Koh Samui paint a picturesque scene of island life. The sunrise and sunset views are particularly striking, with the changing hues casting a magical glow over the golden Buddha.
Understanding the cultural etiquette can greatly enhance your visit to this revered site. As with any Buddhist temple in Thailand, modest dress is required. That means shoulders and knees should be covered. If you forget, don't worry – you can rent sarongs near the entrance. Do remember to remove your shoes before entering the temple. Being respectful of these traditions is greatly appreciated by the locals and adds to the overall spiritual experience.
The temple is open from early morning till late evening, but try to plan your visit for the early morning or late afternoon to avoid the heat of the day. You're also likely to encounter fewer crowds during these times. And while entry to the temple is free, donations are encouraged to help with its upkeep.
A visit to this iconic landmark not only leaves you with captivating visuals but also offers a glimpse into the rich cultural heritage and the deep-seated spirituality of Thailand. Indeed, the Big Buddha Temple is a testament to Koh Samui's charm, a place where natural beauty and spiritual tranquillity go hand in hand, leaving you with a sense of calm and a deeper appreciation of Thai Buddhism. So, when you find yourself in Koh Samui, let the gleaming statue guide you to an experience that is as enlightening as it is unforgettable.
Dress Respectfully: Dress modestly when visiting the temple. Shoulders and knees should be covered. If you're wearing revealing clothes, you can rent a sarong at the entrance.
Remove Your Shoes: It's customary to remove your shoes before entering the temple complex, as a sign of respect.
Be Mindful of Local Customs: Avoid touching the statues and don't point your feet towards Buddha images as it's considered disrespectful.
Photography: Feel free to take photos but be respectful. Avoid posing in a way that's considered disrespectful towards the Buddha image (like climbing onto the statues, making inappropriate gestures, etc.)
Quietude: Keep the noise level down. This is a place of worship and meditation, so it's important to maintain a serene environment.
Donation: The temple doesn't charge an entry fee, but donations are encouraged to help with maintenance.
Best Time to Visit: Plan your visit for early morning or late afternoon to avoid the heat of the day and the crowds.
Experience Monk's Blessing: If you wish, and a monk is available, you can receive a blessing. They will often tie a string (Sai Sin) around your wrist, which is considered a symbol of protection and good luck. Remember to leave a donation.
Ring the Bells: Don't miss the opportunity to ring the bells located around the temple. It's believed to bring good luck and drive away negative energy.
Remember, this is a spiritual and religious place for many people, so demonstrating respect and consideration for local customs and traditions will help ensure you have a rewarding and enriching visit.