Wat Khunaram - Mummified Monk Temple
Nestled in the lush heart of Koh Samui, is an intriguing spectacle of serenity, spirituality, and surprisingly, a dash of the macabre. Meet Wat Khunaram, a modest yet alluring Buddhist temple, widely known for its unique resident: The Mummified Monk, Luang Pho Daeng.
Wat Khunaram's architecture, while not as grandiose as some of Thailand's famous temples, captivates visitors with its simplicity and elegance. Cradled by lush tropical flora, the temple features an imposing multi-tiered roof, painted in a regal combination of gold, red, and green. Colourful dragons adorn the gables, while intricate woodwork depicting scenes from the life of Buddha adds to the charm.
Beyond the golden-hued temple doors, in the quiet, incense-laden interiors, rests the mummified body of Luang Pho Daeng. Poised in a meditative position, he sits encased in a glass display, sporting his signature sunglasses to hide the decay of his eyes, making the sight a touch less unsettling for visitors. His remains have been remarkably well-preserved since his death in 1973, a testament to the monk's reported spiritual achievements during his lifetime.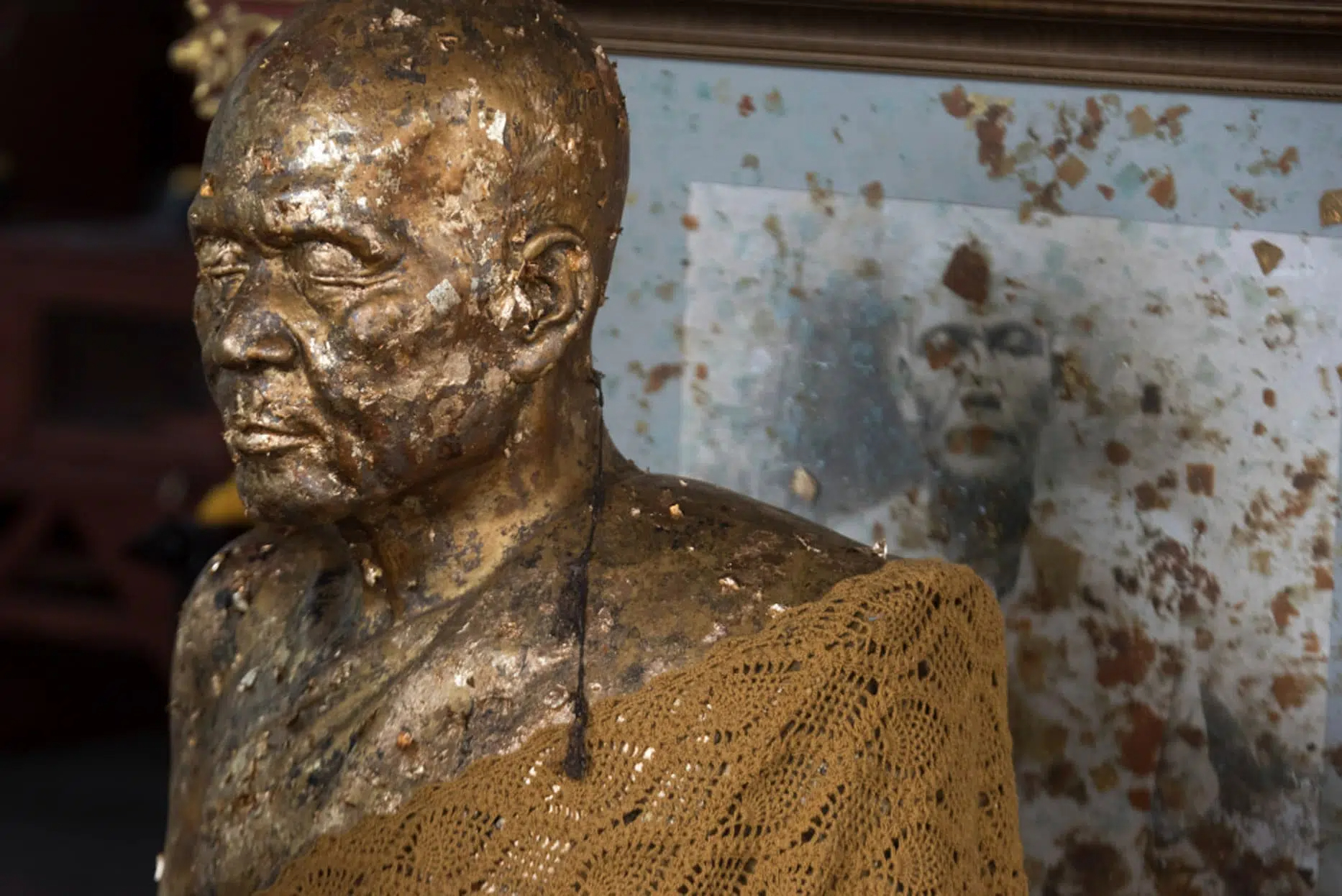 Situated just before the enclosure housing the mummified monk, you'll encounter a little stage to kneel with cylinders filled with long, thin sticks, each inscribed with a unique number. This is the Siamese version of the Chinese fortune-telling practice known as Kau Cim, or "lot-stick oracle". Intriguing and filled with suspense, it provides a traditional means for visitors to divine their luck.
To participate, you'll need to gently shake the cylinder while focusing your mind on a question or concern. When one of these sticks eventually falls out, pay attention to its number. This is not a random occurrence but is believed to be influenced by the subtle energies around you and the clarity of your focused intent.
The number on the stick corresponds to a specific written fortune, usually contained within a set of drawers or booklets nearby. The written fortunes range from matters of health and career to relationships and spiritual growth. Once you've found your corresponding fortune, read it carefully. These cryptic predictions, steeped in wisdom, offer advice, warnings, or encouragement, based on ancient Buddhist teachings.
This age-old ritual provides a beautiful blend of personal introspection and cultural immersion. Even if you are not a believer in fortunes or luck, participating in this practice can add another memorable layer to your visit to Wat Khunaram. Just remember, the advice given is often metaphorical and subject to interpretation, so approach it with an open mind and a spirit of curiosity.
Don't miss the opportunity to receive a blessing from the monk at Wat Khunaram, if you are lucky and he is in not meditating at the time of your visit. Don't forget to leave a donation for your blessing.
Flanking the mummified monk are various Buddha statues, gleaming in gold and brass. Each one, with its unique posture and expression, symbolizes a different aspect of the Enlightened One's teachings. While the seated Buddha signifies meditation, the standing one represents moral righteousness. These statues, far from being mere decorative elements, guide the believers in their spiritual quests.
As with every great temple, Wat Khunaram's charm is deeply intertwined with its history. Luang Pho Daeng, the revered monk, was not just a religious figure, but also a deeply respected member of the local community, who believed in and practiced self-discipline and meditation till his last breath. His mortal remains are a symbol of his devotion and a poignant reminder of the impermanence of life.
Wat Khunaram's allure lies in its intriguing fusion of serenity, history, and the unusual. It's a place where age-old traditions and beliefs are still fervently followed, where tales of an extraordinary monk inspire generations, and where the reality of life and death are faced with quiet acceptance. As you step out of the temple and back into the humdrum of modern life, you'll carry a piece of that tranquillity with you, a memory imbued with the echoes of spirituality, wisdom, and an intriguing mummy monk.
Timing: If you drive on your car rental, visit early in the morning to avoid the heat and the crowds from guided tours.
Dress Respectfully: As with all religious sites in Thailand, it's important to dress modestly. Wear clothes that cover your shoulders and knees. Avoid revealing outfits to show respect for the local culture and customs.
Remove Your Shoes: Before entering the temple, you should remove your shoes. It's customary in Thailand, so make sure to wear footwear that can be easily slipped on and off.
Be Mindful of Photography: While photography is typically allowed, be respectful about it. Avoid flash photography inside the temple, especially near the mummified monk.
Participate in Rituals: Engage with the cultural practices, such as shaking the fortune-telling sticks or lighting incense sticks, but do so respectfully and mindfully.
Experience Monk's Blessing: If you wish, and a monk is available, you can receive a blessing. They will often tie a string (Sai Sin) around your wrist, which is considered a symbol of protection and good luck. Remember to leave a donation.
Respect Silence: Maintain a quiet demeanor inside the temple premises to respect those who are praying or meditating.
Touching: Do not touch any religious objects or decorations without permission.
Follow the Signs: Adhere to any signage or instructions around the temple, especially those concerning conduct or restricted areas.
Learn About Buddhism: Take this opportunity to learn about Buddhist culture and philosophy. Understanding the context will greatly enrich your visit.