Perched in the northeast corner of Koh Samui, the Wat Plai Laem complex radiates an aura of tranquility and spiritual profundity that remains etched in the minds of its visitors.
Upon arriving, the expansive rectangular pond teeming with fish instantly captures your gaze. It's considered good luck to feed them, a delightful practice that many locals indulge in and a ritual that visitors can also partake in to start their journey at Wat Plai Laem.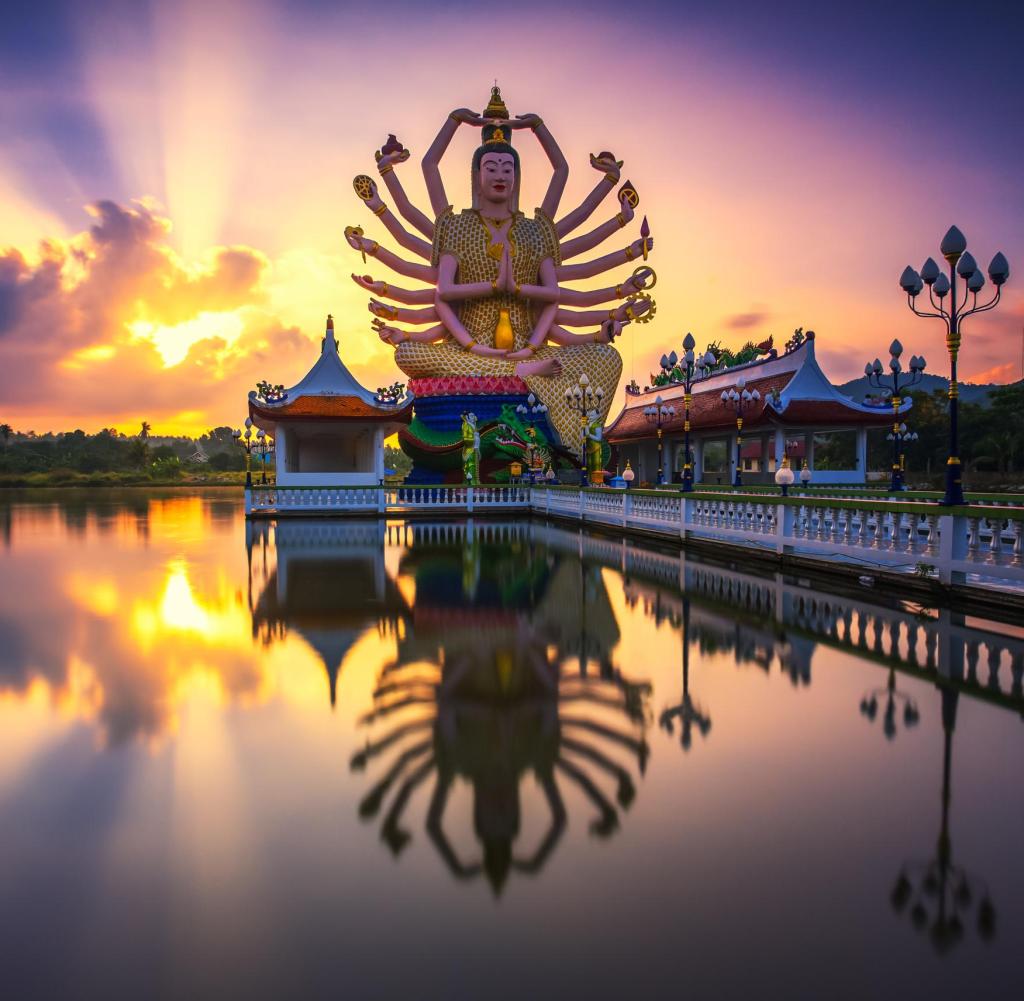 Two monumental statues stand in the temple complex. You might be able to spot them if you flight to Koh Samui during the day. The first, a statue of the eighteen-armed Shiva, known as Shiva Parvati, gracefully towers above. Each arm of this Hindu deity symbolizes a different characteristic, painting a nuanced picture of this divine figure who embodies cosmic cycles of creation, preservation, and destruction.
Sharing the limelight is the statue of the Smiling Buddha, covered in lively hues of red and gold. This representation, drawn from Chinese Buddhism, features the Buddha with a cheerful smile, believed to bring about happiness and prosperity.
The main temple building of the complex, built in the early 2000s, showcases an intriguing mix of traditional Thai and Chinese architectural styles, testament to the rich cultural melting pot that is Koh Samui. As you wander around, you'll find yourself in awe of the intricate details that cover every surface of Wat Plai Laem. Every statue, shrine, and building is an artistic marvel, covered with intricate carvings and flamboyant murals that tell stories from Buddhist and Hindu mythology. These thoughtful details serve as a spiritual guide, providing insights into the philosophies and teachings of these two major religions.
The entire complex, constructed on the Ubosot design, the most sacred area of a Buddhist temple, echoes with spiritual significance. It's a remarkable testament to Thailand's religious heritage, offering a serene space for meditation, prayer, and reflection.
Wat Plai Laem is open daily from early morning until evening, offering plenty of time for visitors to immerse themselves in its beauty and peace. While there's no entrance fee, donations are appreciated and go towards maintaining the complex. Don't forget to take a few moments for quiet reflection by the pond or in the temple, away from the bustling crowd, to truly appreciate the complex's spiritual significance.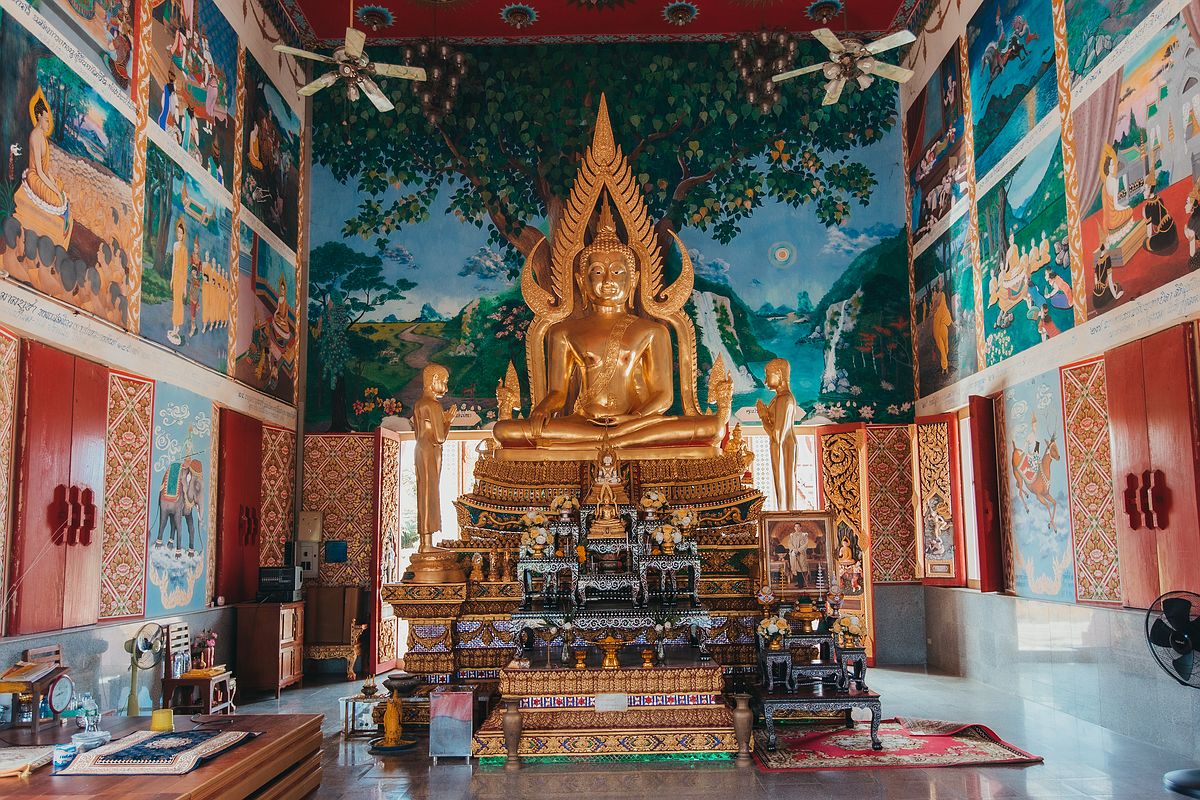 If you're planning a visit to Wat Plai Laem, remember to dress respectfully, covering your shoulders and knees, as is customary when visiting sacred sites in Thailand. If needed, sarongs are available at the entrance to help visitors comply with the dress code.
Open from sunrise to sundown, the complex invites you to spend quality time, whether you're intrigued by its rich history, captivated by its stunning beauty, or seeking a moment of spiritual tranquility. Though there's no entrance fee, any donations are graciously accepted and contribute to maintaining the complex's elegance and serenity.
Beyond the spiritual journey, treat yourself to some mouth-watering local Thai cuisine offered by the small restaurants near the entrance of the complex. As a final touch to your visit, consider purchasing a souvenir from the local artisan stalls surrounding the temple area, a gesture that supports the local community and lets you bring a piece of Wat Plai Laem's magic back home.
The Wat Plai Laem complex stands as a radiant testament to the island's cultural richness, spiritual depth, and stunning aesthetics. This multifaceted gem, uniting Thai, Chinese, and Hindu elements in harmonious coexistence, offers a unique window into the spirituality and culture of Koh Samui. It's not just a place to visit; it's a place to experience, reflect, and connect, beckoning each visitor to immerse themselves in its tranquility and wisdom.
Dress Respectfully: As Wat Plai Laem is a sacred religious site, visitors are expected to dress modestly, with shoulders and knees covered. If you're not appropriately dressed, you can borrow a sarong at the entrance to cover up.
Visit Early or Late: The complex can get busy, so consider visiting early in the morning or later in the day to avoid the crowds and experience the temple in a more serene setting.
Feed the Fish: Consider buying fish food that's sold at the site to feed the many fish in the pond. This practice is believed to bring good luck.
Respect the Space: Remember to act respectfully at all times. This includes speaking softly, avoiding touching the religious statues, and refraining from pointing your feet towards the statues or monks, which is considered disrespectful in Thai culture.
Take Your Time: Don't rush your visit. Take the time to appreciate the intricate architectural details, vibrant murals, and serene environment. Use this opportunity to learn about the temple's history and cultural significance.
Support Local Artisans: Consider buying a souvenir from the local artisan stalls that surround the temple. Not only will you have a memento of your visit, but you'll also be supporting the local community.
Donations Are Welcome: Though there's no entrance fee, donations are appreciated and go towards maintaining the temple complex.
Take Photos Responsibly: While it's okay to take photos, remember to do so respectfully. Avoid posing in front of the statues in a way that could be seen as disrespectful.